Alnylam Receives Prestigious Massachusetts Economic Impact Award
February 4, 2022

Alnylam Pharmaceuticals
We are pleased and honored to have been named a Gold Team Massachusetts Economic Impact Award winner for 2022 by MassEcon, for our continued investment in our Norton (MA) manufacturing facility. The MassEcon awards recognize companies that are committed to and invest in job creation in Massachusetts and the development of the state's 21st century workforce.
As a Massachusetts-based company committed to helping develop our state's biopharmaceutical manufacturing sector and fostering the high-tech workforce of the future, we are most appreciative of this recognition from MassEcon. It was important to Alnylam to locate our in-house manufacturing operations close to our R&D operations and executive leadership to facilitate the kind innovation and seamless collaboration that we feel will best and most quickly enable us to develop new medicines for patients who are waiting.
– Al Boyle, PhD - Chief Technical Operations and Quality Officer, Alnylam
MassEcon's mission is to promote and champion business investment in Massachusetts. It works to convenes public and private sector leaders of industry to create an inclusive business ecosystem that enhances job growth across a diverse talent pool; promotes investment in all communities; expands equitable opportunities throughout the Commonwealth.
"The commitment of these companies to innovate, invest and grow in Massachusetts is emblematic of the broader vitality of our economy and the workforce that drives it," stated Peter Abair, Executive Director of MassEcon. "We are incredibly honored to recognize these companies and their achievements."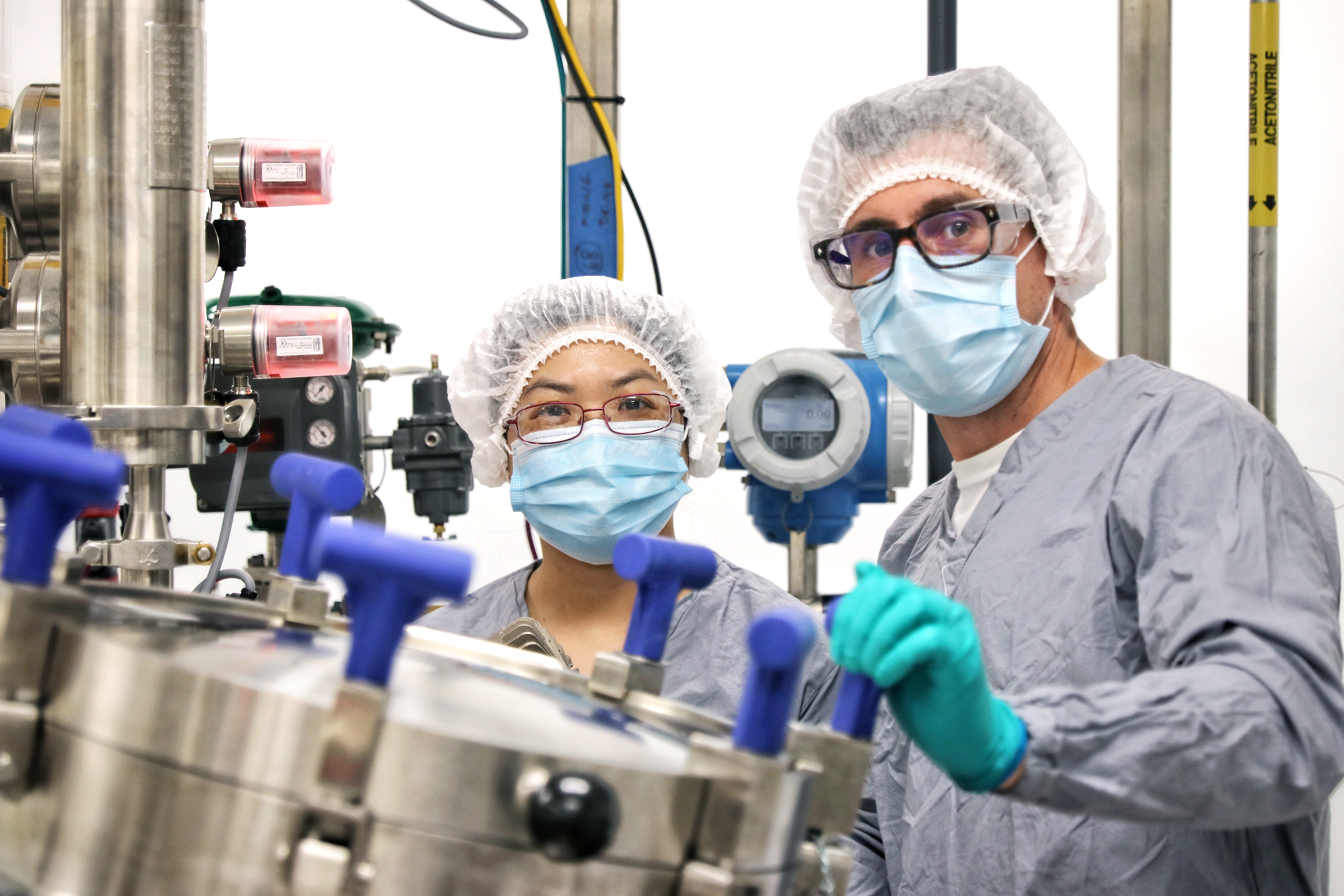 Employees at Alnylam's Norton Manufacturing Facility
Our Norton Manufacturing Facility is the center-piece of Alnylam's Global Manufacturing Operations (AGMO) capability and future plans to produce both clinical trial and commercial drug product to support our robust and growing RNAi therapeutics pipeline. Alnylam has invested $200 million to build this 200,000 SF state-of-the-art facility located 40 miles from our Corporate Headquarters in Cambridge, MA. Learn more about the planning and development of this facility here.
Technological innovation is at the heart of our pioneering work to develop RNAi therapeutics. Founded in 2002, Alnylam has led the translation of the breakthrough (and Nobel Prize-winning) discovery of RNA interference into an entirely new class of medicines to treat a broad range of both rare and common diseases. As the first and only company to bring RNAi-based medicines to market, Alnylam has had to develop the means of manufacturing the these medicines. Our technological expertise in oligonucleotide synthesis of small interfering RNA (which make RNAi therapeutics possible) and advanced drug delivery solutions also recently earned Alnylam a spot on Deloitte Technology Fast 500 list for 2021.
Tags