Building for Our Future
October 1, 2019
Cory Siddons
Sr. Director, Manufacturing, Alnylam Pharmaceuticals
Why would a company without a commercially approved medicine decide to build a significant manufacturing facility? Why not continue to rely on contract manufacturing partners until reaching scale – the "recipe" most biotech companies follow? These were the questions we contemplated when evaluating our drug manufacturing needs for the present and future, especially as our number of late-stage programs continued to grow and we continued to add to our pipeline.
When I first joined Alnylam in 2015, we were still in the midst of deciding whether to build. I was hired as the first person focused on this project and was excited to bring my passions for designing and improving manufacturing operations to the company. We knew that the effort to build – and the expenditure – would be significant and seemed a risky decision at face value. The prospect of building a large-scale facility given our stage of development seemed bold. However, as I really came to understand our science, the promise of our pipeline, and limitations on the global capacity for manufacturing oligo-based drugs including RNAi therapeutics, my misgivings were quickly replaced with confidence and the knowledge that we had to do this!
Creating a scalable plan would be our true test. We looked closely at the progress and intense pace of our own pipeline and it was clear that having our own internal manufacturing capability was the right choice, allowing us to be nimble in supplying products to our ongoing clinical trials. With our own manufacturing facility, we would maintain direct control over quality and compliance, while being able to develop and retain in-house intellectual property associated with our manufacturing processes.
Beyond that was the uniqueness of what we were doing – manufacturing small-interfering RNAs (siRNAs) that were at the core of this new class of medicines. Since the technology was so new, and we were the furthest along in the field pioneering RNAi therapeutics, there simply wasn't capacity on the contract manufacturing side to meet the demand we felt confident we'd need. Being the leader means you need to lead, and for us, that meant we needed to build! In 2015, we began scouting potential locations for a new manufacturing facility.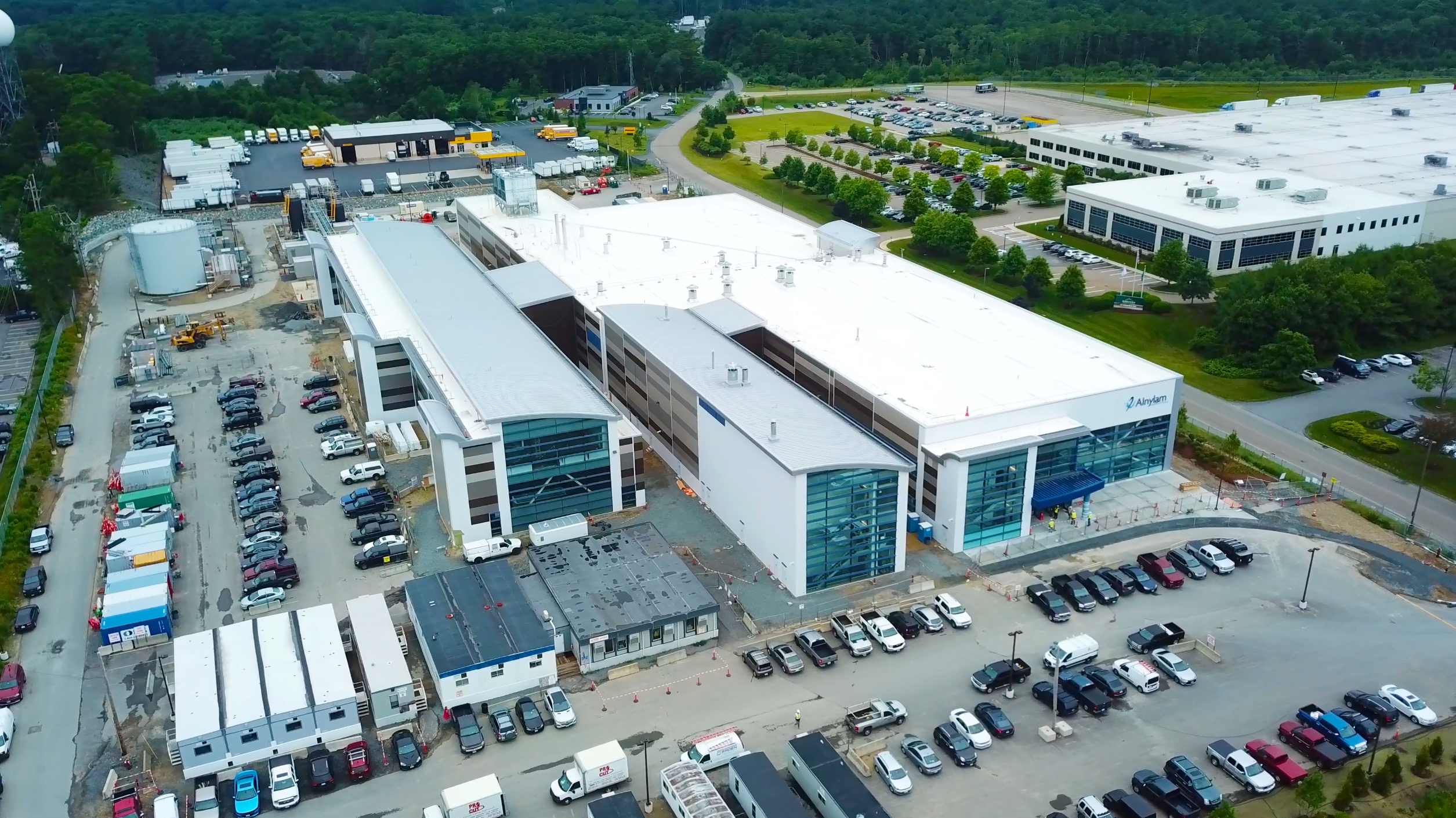 Alnylam's Norton manufacturing facility under construction (June 2019)
Fast forward to 2016 when we broke ground on a 12-acre site in Norton, MA – just about 40 miles from our headquarters in Cambridge, MA – and started to build a 200,000 square foot facility. I remember walking the site just after we selected it. I really couldn't wrap my head around 200,000 square feet but the piece of land was huge – it felt like a farm! The process of building our own manufacturing facility – and one that could be scaled as we continue to grow – has involved a lot of planning, scheduling, coordinating, documenting, and anticipating unknowns. Being close to our home base meant we could work closely with our scientists to share knowledge and refine our process, while staying in the heart of biotech innovation in Massachusetts allowed us to recruit from an exceptionally talented life sciences workforce.
Today, we're nearing the completion of an amazing capability that will support and grow with us well into the future. We have one approved medicine, a second in review with health authorities, several programs in late-stage development and many more in the pipeline. We've also diversified the chemistry we use to deliver our medicines to the right cells in the body. It's truly an incredible time to make RNAi therapeutics and even more so in our new home.