2021 Annual Report: CEO Yvonne Greenstreet Reflects on an Important Year in the RNAi Revolution
April 15, 2022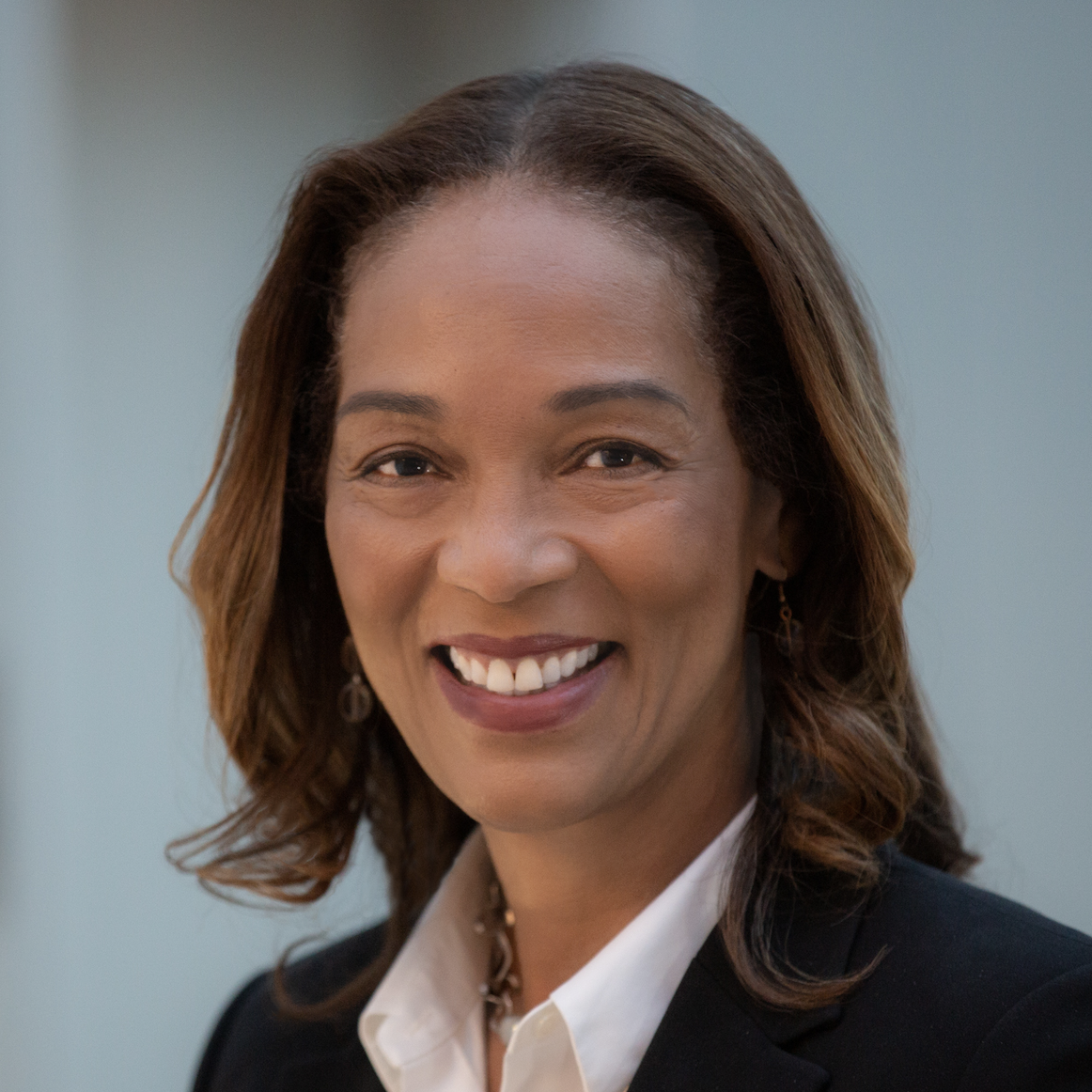 Dr. Yvonne Greenstreet
Chief Executive Officer, Alnylam Pharmaceuticals
This past year marked a historic chapter in Alnylam's journey, and I'm honored to be providing this summary as the new CEO of Alnylam, having taken the helm from founding CEO John Maraganore at the end of 2021.
2021 was a year in which we saw tremendous progress with our commercial and pipeline performance, along with important steps forward in cementing the next phase of the Company's history with our five-year Alnylam P5 x25 strategy. We believe these steps, coupled with so many other exciting developments, have poised Alnylam for continued success in 2022, the year that we'll celebrate our 20th anniversary of pioneering the RNAi Revolution.
I invite you to read all about Alnylam's achievements and activities in our 2021 Annual Report, but I'll mention a few highlights here:
Commercial successes – we achieved $662 million in global net product revenue from our wholly owned marketed medicines – ONPATTRO® (patisiran), GIVLAARI® (givosiran) and OXLUMO® (lumasiran). This represents 83% year-over-year growth which we believe underscores strong patient demand for our products, continuous progress in patient diagnosis, and innovation in market access.
Regulatory milestones – we continue to make our wholly owned medicines available to patients around the world securing approvals in 5 more countries in 2021. Additionally, following EU approval in 2020, our partner Novartis received U.S. FDA approval for Leqvio® (inclisiran). This was the fourth Alnylam-discovered RNAi therapeutic approved in the United States and we believe the approval of Leqvio affirms the future potential of RNAi therapeutics in large population diseases.
Progress in R&D/our pipeline – we continue to progress a robust pipeline of investigational medicines across therapeutic areas and tissues. We added 5 clinical programs in 2021, bringing our total to 12.
In our transthyretin amyloidosis franchise, we continue to evaluate the safety and efficacy of patisiran in the APOLLO-B Phase 3 study in transthyretin-mediated (ATTR) amyloidosis patients with cardiomyopathy. We've also completed enrollment in the HELIOS-B Phase 3 study of vutrisiran, our subcutaneously administered RNAi therapeutic in development for the treatment of patients with ATTR amyloidosis with cardiomyopathy and we recently reported

positive results

from the HELIOS-A Phase 3 study of vutrisiran in patients with hATTR amyloidosis with polyneuropathy at 9 and 19 months

For givosiran, we reported 36-month results from the ENVISION Phase 3 study demonstrating sustained efficacy and safety with long-term dosing
For lumasiran, we reported positive results from the ILLUMINATE-C Phase 3 study
With regard to our earlier-stage programs:

We are particularly excited by our progress with zilebesiran, our investigational RNAi therapeutic in development for the treatment of hypertension. We initiated our KARDIA Phase 2 program and reported on

positive interim results

from the Phase 1 study with the potential for quarterly and potentially biannual dosing

We are also pleased to have submitted our clinical trial authorization (CTA) filing for our ALN-APP program and initiated a Phase 1 study of this investigational RNAi therapeutic in patients with early-onset Alzheimer's disease, marking our entry into diseases impacting the central nervous system and opening doors for potential new opportunities pursuing targets in extrahepatic tissues
We initiated a Phase 1/2 study for ALN-XDH, our investigational RNAi therapeutic in development for the treatment of gout, yet another opportunity to evaluate the benefit of RNAi therapeutics in the setting of common diseases
We also are making good progress in several partnered programs including investigational RNAi therapeutics fitusiran in hemophilia A and B (with Sanofi), cemdesiran in compliment-mediated diseases (with Regeneron), ALN-HSD in NASH (with Regeneron), and ALN-HBV02 in hepatitis b (with Vir)
RNAi therapeutic platform enhancements – 2021 saw several exciting platform enhancements including preclinical data with our IKARIA platform and investigational RNAi therapeutic ALN-TTRsc04, demonstrating potential to achieve over 90% target knockdown with an annual dosing regimen. We believe our focus on scientific innovation and our commitment to our vision of harnessing the power of RNAi for human health will continue to open up new frontiers of possibility and will fuel the discovery of new therapeutics for patients around the world for decades to come.
Supporting patients – we believe that we continue to lead by example in the way that we are working to support patients through market access and services/support.
We are working hard to ensure that people who may benefit from our medicines have access to the. Our therapies are now available in more than 30 markets in North America, South America, Europe, Asia-Pacific, and the Middle East, either directly from Alnylam or through distributors. In 2021, we published our 3rd annual Patient Access Philosophy Report, where you can read about our progress in depth
Alnylam Assist, our patient services program in the U.S., Canada and Brazil offers patients and their families a wide variety of services once they've been prescribed one of our medicines
Alnylam Act and Gene Act, which are our 3rd party genetic testing and counseling programs, are available in 11 countries. These programs reduce barriers to genetic testing and counseling to help facilitate accurate diagnosis and help patients make informed decisions about their health with their healthcare provider*. To date, more than 58,000 genotyped samples through these programs have resulted in more than 3,300 positive test results for relevant genetic mutations
Corporate responsibility – In 2021, we continued to grow our Company-wide efforts and investment in corporate responsibility. We're proud to have recently published our second annual Corporate Responsibility Report highlighting the metrics and measures which were aligned with our commitment to being an ethical, responsible, and forward-thinking organization whose priorities extend to our patients, our employees, our science, our communities and our planet.
Diversity, equity & inclusion – We also continued to expand on our Diversity, Equity and Inclusion initiatives which included expanded employee education and training opportunities and the establishment of several new Employee Resource Groups (ERGs) and Initiative-Driven Interest Groups (IDIGs). Alnylam's efforts were recognized with multiple awards in 2021, among them, inclusion in the Bloomberg Gender Equality Index for the second year in a row, being named a Seramount 100 Best Companies (formerly Working Mothers Top Workplaces) and one of the Best Companies for Dads.
An employer of choice – In 2021, more than 600 new colleagues joined Alnylam and we were pleased to be broadly recognized as a top workplace across the globe. We were named the #1 largest employer in Massachusetts in the annual Boston Globe Top Places to Work survey, marking Alnylam's 7th year in a row on the list and 8th overall, and we were also the highest ranked life sciences company in any size category. Nine of our Alnylam offices outside of the U.S. were recognized by Great Place to Work as top workplaces in 2021. We were also named a Science magazine Top Science Employer for the 3rd year in a row, and a Fast Company Best Workplace for Innovators.
In closing, I am humbled by everything Alnylam accomplished in 2021, especially given ongoing challenges of the global COVID-19 pandemic, and am invigorated by the opportunities ahead of us. I am deeply thankful to all of my Alnylam colleagues, who continue to drive innovation in the name of patients, who believe in our shared mission and, as we head into our 3rd decade as a company, remain driven to lead the RNAi Revolution.
I look forward to reporting out on our 2022 accomplishments again this time next year.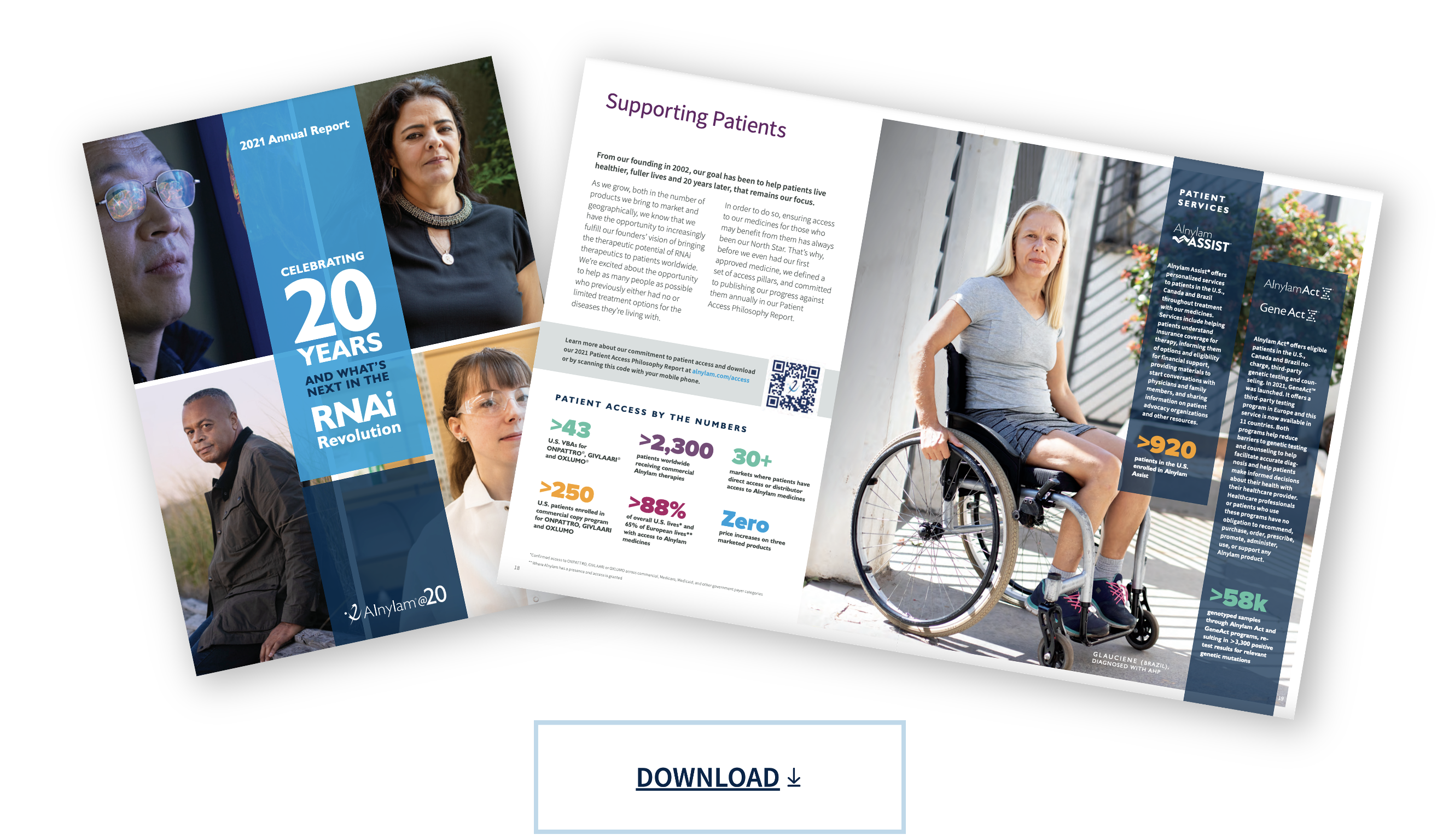 *Healthcare professionals or patients who use these programs have no obligation to recommend, purchase, order, prescribe, promote, administer, use, or support any Alnylam product.
Tags