Culture of Innovation Brings Recognition as a Best Workplace for Innovators by Fast Company
August 4, 2021
Seth Levine
Sr. Director, Global Head of Corporate Brand & Creative, Alnylam Pharmaceuticals
"Innovation" is a term that's used quite liberally in biotech, technology and a lot of other industries, but when you're creating something totally new, from scratch, as Alnylam has done with RNAi therapeutics, nearly everything that you do truly is an innovation. In our journey, some innovations were BIG and some were smaller, but through sustained research and development efforts over the past 20 years, our people have pioneered the science and processes that provided the critical breakthroughs that make RNAi therapeutics possible. And as a result, our medicines are now helping people who just a few years ago had little reason for hope.
At Alnylam, we like to describe our journey as having been "founded on optimistic discovery and built through perseverant innovation." We use these words because our founders believed that the Nobel Prize-winning discovery of RNAi (RNA interference) in worms held great potential for humans and could be translated into a revolutionary new class of medicines to treat diseases that had been deemed "undruggable." The prospect meant that we could potentially bring new therapies to tens of thousands of people who currently had no or limited treatment options. Then, through successes and setbacks, we did just that, culminating with the approval of the world's first approved RNAi therapeutic in 2018 and subsequent approvals of the only other approved RNAi therapeutics in 2019 and 2020.
It's because of where we started from in 2002, and what we needed accomplish to get to where we are today as the leading RNAi therapeutics company, that innovation has always been at the core of our culture. In fact, "Innovation and Discovery" is one of our Core Values as a company and we believe that it is because of the expectation that we will do new, amazing and impactful things as individuals and collectively, that we have been as successful as we have been.
While our employees and peers in the biopharma industry have long known this to be true, it's especially gratifying to be recognized for our innovative culture and the impact of our innovation more broadly which is why we're thrilled to have been named a Best Workplace for Innovators for 2021 by Fast Company, and be ranked #11 out of 100. Fast Company has recognized Alnylam for innovation before - as one of its 50 Most Innovative Companies for 2019.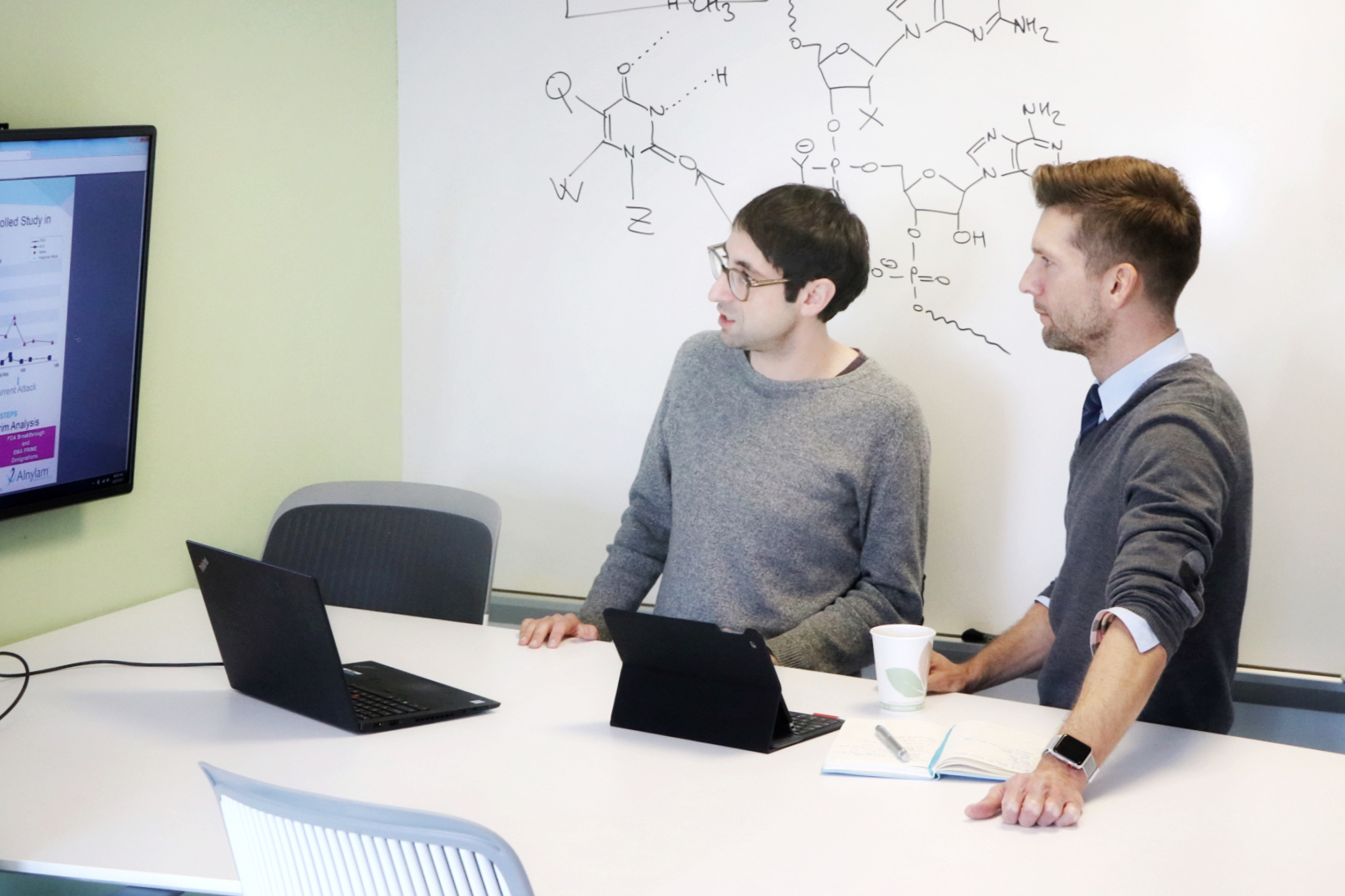 Free-flowing cross-functional collaboration, including our practice of "20% time," is a key component of innovation at Alnylam.
We nurture our culture of innovation in a multitude of different ways, from our approach to R&D to employee development programs to our diversity, equity and inclusion (DE&I) efforts which aim to "harness the power of AND" to tap great thinking and transformative ideas from all parts and corners of our organization. Another way that we nurture this kind of thinking is through our practice of allowing employees to set aside up to 20% of their time to explore their professional passions and take on new challenges – even those that may be outside of their given role. And it was as a result of this 20% time that a small, cross-functional team, of their own volition, set out to solve how to deliver siRNAs (small interfering RNAs, which we synthesize) to the central nervous system (CNS) – something that had never been done before. This work created a new research track for the company expanding our research focus to include the CNS and ocular tissues. It also led directly to a nearly $1 billion research collaboration with Regeneron which we hope will yield transformative medicines for patients living with CNS and ocular diseases.
Check out the full 2021 Best Workplaces for Innovators list here and we invite you to learn more about how innovators can make an impact for science, patients and in their respective professional fields with a career at Alnylam. If you're an innovator, seeking the company of other innovators at a company recognized for its innovation, perhaps this is your moment to join us!