Expressing the Puzzling Challenges of hATTR Amyloidosis Through Art
January 9, 2020

Alnylam Pharmaceuticals
Over the summer, we asked the hereditary ATTR (hATTR) amyloidosis community to create and submit artistic representations expressing what it is like to live with the condition as part of an initiative called "The Art of Living with hATTR Amyloidosis." The goal of the project is to raise awareness of hATTR amyloidosis – a rare, rapidly progressive and life-threatening disease – to help give voice to the community and support those who may feel isolated.
We recently spoke with Peggy and her life partner Dan, who is living with hATTR amyloidosis, about their submission, At the Coffee Shop.
At the Coffee Shop, submitted by Peggy to the "Art of Living with hATTR Amyloidosis" initiative.
Alnylam: Peggy, can you tell us a little bit about your artwork?
Peggy: This piece is done in chalk pastels – which I use almost exclusively – and was created on the back of a puzzle. A lot of my artwork is inspired by the photos I take with my phone. I titled my submission for "The Art of Living with hATTR Amyloidosis" At the Coffee Shop, because the coffee shop is one of Dan's and my favorite places to visit. Our local coffee shop is filled with great people, food, entertainment, and of course, coffee.
Alnylam: What made you choose to create your submission on a puzzle?
Peggy: hATTR amyloidosis has many facets and presents puzzling challenges regarding diagnosis and treatment. I hope that when other people see my piece, they will understand that this disease is complicated, but no matter what, when you look at all the pieces that have fallen into place, you can see it's still possible to live life to the fullest.
Alnylam: How did you feel when Dan was diagnosed with hATTR amyloidosis?
Peggy: Dan is my life partner. We were married to each other and divorced. Now, we have been together longer than we were married. When I learned of Dan's diagnosis, I immediately thought of his father's suffering and early death and the pain it created for the entire family. This disease is something no one asks for and it takes fortitude to care for people with it.
Alnylam: Dan, can you tell us more about your experience with hATTR amyloidosis?
Dan: I was diagnosed with hATTR amyloidosis in 1996, shortly after my father passed away. After he passed, an autopsy revealed that he had undiagnosed hATTR amyloidosis and as a result, he was suffering from malnourishment, peripheral neuropathy, and carpal tunnel syndrome. Since being diagnosed, my daily life has changed radically. I had to retire early. Peggy and I also moved into a one level condo for safety and to ease daily worries, such as home maintenance and snow removal. I used to be an outdoorsman, but now instead of long walks, I rely on a scooter to go anywhere further than one block.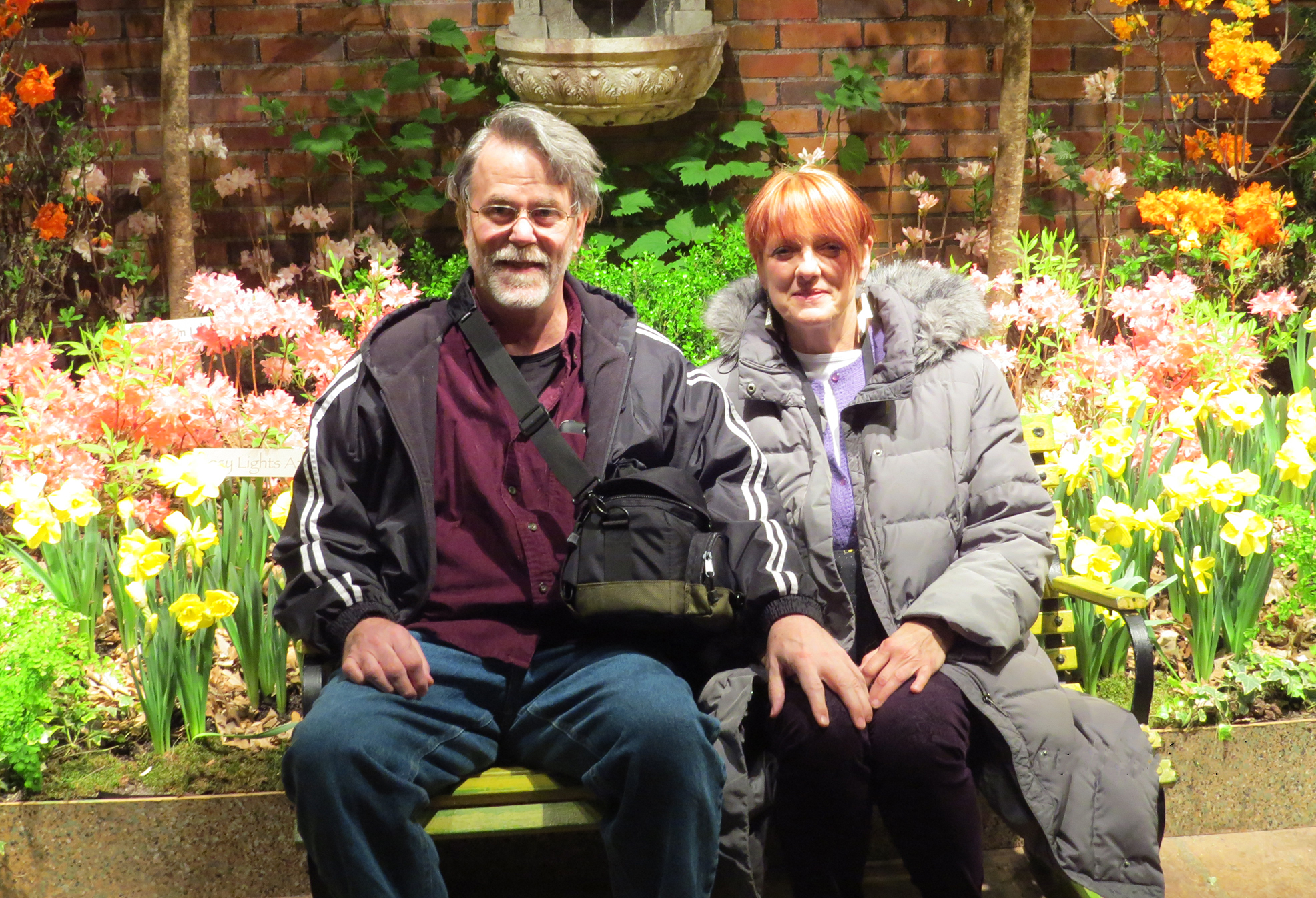 Peggy and Dan in 2014
Alnylam: What impact has hATTR amyloidosis had on your family?
Dan: I have a large family of twelve siblings – ten of whom are still living – and six have tested positive for hATTR amyloidosis. My oldest sibling died at age 69 during heart surgery and third oldest died at 70 of a heart attack. We suspect both of them may have had the condition as well. The disease has been difficult on my immediate family. Throughout it all, Peggy has been my rock, my "angel of mercy." She dotes on me, tolerates my occasional crabbiness and I am humbly dependent on her to help me cope every day.
Alnylam: How did you feel when you saw Peggy's artwork, and what do you hope others will get out of seeing it?
Dan: Peggy does a lot of pastel chalk drawings and I am always impressed by her talents. For those who are living with hATTR amyloidosis, they should know that the future is difficult, but not without hope. Get your affairs in order, follow your doctor's orders, plan for the worst, and hope for the best.