Alnylam's Patient Access Philosophy - Our Progress
September 9, 2019

Alnylam Pharmaceuticals
Nearly two years ago – before we launched our first product – we made a commitment to strive toward broad patient access to our medicines. In our view, patients come first, innovation is key, and accountability is a must. We plan to provide an update on how we are putting our Patient Access Philosophy, which embodies those values, into action.
On the heels of the anniversary of ONPATTRO's commercialization in the United States (U.S.) and Europe, here are some highlights from the first report*:
98% of Americans with commercial, Medicare, Medicaid, and other government insurance have access to ONPATTRO, if prescribed
~100 commercially-insured patients are actively enrolled in our co-pay program
80% of U.S. patients have zero commercial co-pay for ONPATTRO
>10 value-based agreements (VBAs) in place in the U.S. to help ensure price predictability for insurers
>15,000 samples submitted for genetic testing to Alnylam Act to help clinicians and patients manage the challenges associated with genetic evaluations and counseling
55 patient education events hosted by Alnylam in the U.S. and Europe since launch
6 European countries where patients have broad access to ONPATTRO, if prescribed
>370 million patients live in geographies – including Canada, Japan, and in Latin American – where Alnylam is actively working to make ONPATTRO commercially available
>300 patients around the globe have received or are receiving ONPATTRO via our compassionate access program
If patients cannot access our therapies, then our work has been in vain. That's why we work with doctors, insurance companies and government authorities around the world every day to improve diagnosis and increase access to care so that patients can live healthier lives. We also engage directly with patients and their families to provide disease information, support them in managing their disease and ensure they are fully prepared to start treatment once prescribed. In the U.S., our Alnylam Assist team has spoken one-on-one with nearly 400 patients and their families. In a survey of those patients, we received a 4.8 out of 5 satisfaction score.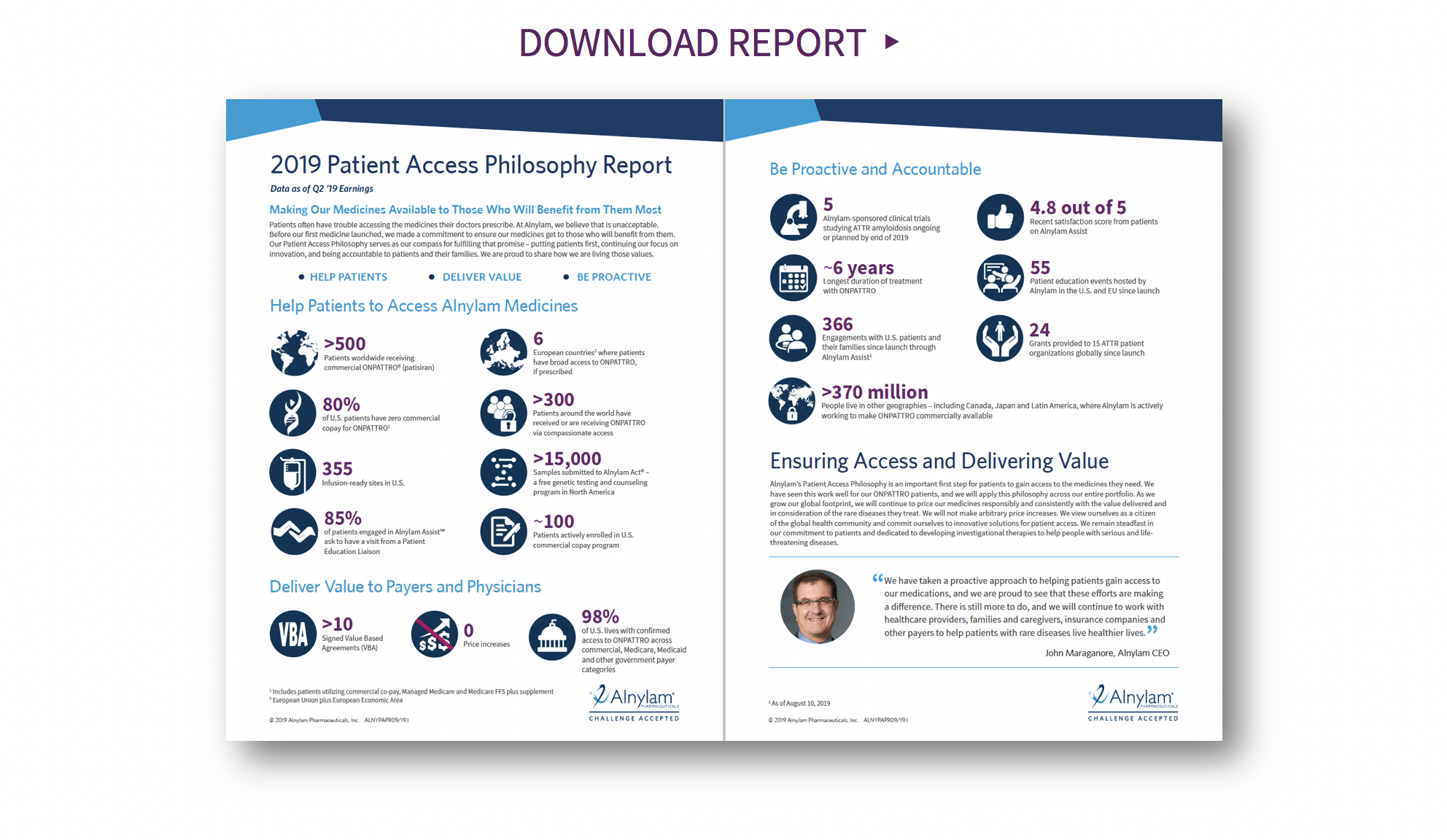 "Our innovative therapies must reach the people who need them for us to fulfill our mission of benefiting patients and society," said John Maraganore, CEO of Alnylam. "I am proud our company is taking bold steps to promote innovation and ensure patient access – listening and responding to the patients who are seeking support and finding creative solutions for them."
As part of our Patient Access Philosophy, we are committed to responsible pricing for all our products that reflects the value delivered to patients, caregivers and society, and consistent with pricing approaches that enable sustainable innovation for rare and ultra-rare diseases. We proactively seek value-based agreements with payers, linking price to our product's performance. These steps are instrumental as countries around the world struggle with the sustainability of overall healthcare spending.
In the U.S., we've vowed to limit price increases – if they are taken, to no higher than the consumer price index – unless there has been a valuable new innovation achieved. We're depending on innovation to drive our business, as opposed to arbitrary price increases that can reduce access.
"As we keep on innovating, we will continue to work with urgency to get therapies to patients once they're approved – addressing financial barriers to access while ensuring coverage for ONPATTRO that reflects its value. This is just the beginning," said Shirley Bachman, Vice President of U.S. Market Access at Alnylam.
We are also focused on providing access in countries outside the U.S., including Europe, Japan, and in a number of Latin American countries. We are pleased with the progress we are making in achieving pricing and access agreements with authorities which allows broader access to ONPATTRO. Many healthcare technology assessment agencies have positively recommended access to ONPATTRO and Alnylam has achieved or initiated reimbursement procedures in more than two dozen countries.

"We are experiencing meaningful engagement with health authorities regarding access in countries around the world," said Anant Murthy, Vice President of Market Access for Canada and EMEA. "We are very pleased with the positive recommendations received from multiple health technology assessment agencies outside of the U.S. regarding the value ONPATTRO can bring to patients and look forward to expanding patients' access to treatment in additional countries."
We believe our Patient Access Philosophy is working well for patients receiving ONPATTRO, and for providers, and we intend to apply this Philosophy across our portfolio. As we expand our global footprint, we will continue to price our medicines responsibly, commensurate with the value delivered, and proportional to the rare and ultra-rare diseases they treat. We will also continue to actively engage with stakeholders across the global healthcare community to address financial barriers to patient access to appropriate treatment and pursue innovative solutions to the significant healthcare system challenges we face as a society.
You can learn more about our Patient Access Philosophy here. We encourage you to check out the 2019 Patient Access Philosophy Report to see how we're doing.
*Data as of Q2 2019