Alnylam Publishes Its 1st-Ever Rare Disease Trend Report
December 7, 2020

Alnylam Pharmaceuticals
Rare diseases affect nearly 10% of the U.S. population and represent a significant unmet medical need for those affected patients and their families and can place a tremendous clinical burden on the U.S. healthcare system. In the past decade, rare disease management has become an increased focus for insurance payers, as potentially life-changing scientific breakthroughs and modernized regulatory pathways have accelerated the entry of medicines that treat these diseases (often referred to as "orphan drugs") to market. At the same time, these exciting advances have placed unprecedented demands and stressors on the U.S. healthcare system, challenging payers to balance patient access to innovative medicines with the need to manage rapidly rising healthcare spending.
As part of our commitment to working to ensure access to our RNAi therapeutics and desire to better understand the payer perspective, Alnylam conducted extensive interviews with >30 U.S. payer and plan decision-makers about barriers to orphan drug access. The findings, published in the first-ever Alnylam Rare Disease Trend Report, provide a unique and fascinating window into the minds of insurers exploring key issues and concerns related to orphan drug access and potential opportunities for closer collaboration to address gaps and ensure that patients can receive innovative, medically necessary therapies as they become available.
"Alnylam recognizes the unique challenges facing payers in the U.S. healthcare system today, particularly with respect to the treatment of rare diseases. We have a responsibility to work closely with payers to ensure that the promise of RNAi therapeutics ultimately reaches the patients who may benefit from them. Managing the spend in rare diseases is on every payer's mind," said Shirley Bachman, Alnylam's Vice President of U.S. Market Access. "Our goal in publishing the Alnylam Rare Disease Trend Report is to support commercial payers by sharing leading edge data to help them benchmark critical trends and navigate this growing area of spend to ensure the right patients are receiving the appropriate medications."
The 2020 Alnylam Rare Disease Trend Report was compiled with the input of an Editorial Board that included Jay McKnight, PharmD, BCPS, Vice President, Pharmacy Clinical Specialty Strategies at Humana, and Kent Rogers, MBA, SVP, Chief Industry Relations Officer at OptumRx and Guidehouse, a research and consulting firm engaged by Alnylam. It is designed to assist commercial payers in the U.S. in understanding key trends and benchmarking rare disease/orphan drug management against industry peers. At the same time, we believe that the insights captured in the Report will help Alnylam and others in the biopharmaceutical industry very importantly "walk a mile in payers' shoes."
From the perspective of U.S. payers, this inaugural Rare Disease Trend Report is a first step in creating an open and transparent dialogue on the challenges faced by insurers in a resource constrained healthcare environment. By highlighting the key issues and opportunities, we hope that payers, providers, patients, and biopharmaceutical manufacturers will bridge the access gaps and ensure patients can receive medically necessary therapies to ultimately improve patient outcomes. - Jay McKnight and Kent Rogers, from the Forward of the Alnylam Rare Disease Trend Report
The inaugural edition of the Alnylam Rare Disease Trend Report explores five key questions of particular importance to payers:
What are the priority therapeutic areas for rare disease management?
How do payers currently manage rare disease products and how are management techniques likely to evolve in the near future?
To what extent do distribution models impact payer management decisions of rare disease products?
How are innovative contracting structures considered in the management of rare disease products and what can we expect in the near future?
What is the impact of patient out-of-pocket costs on payer management decisions for rare disease products?
The Report, which we intend to publish annually with updated survey data, dives deep into these questions and features dozens of charts and data sets, payer perspectives and quotes and analysis. We invite you to download it today.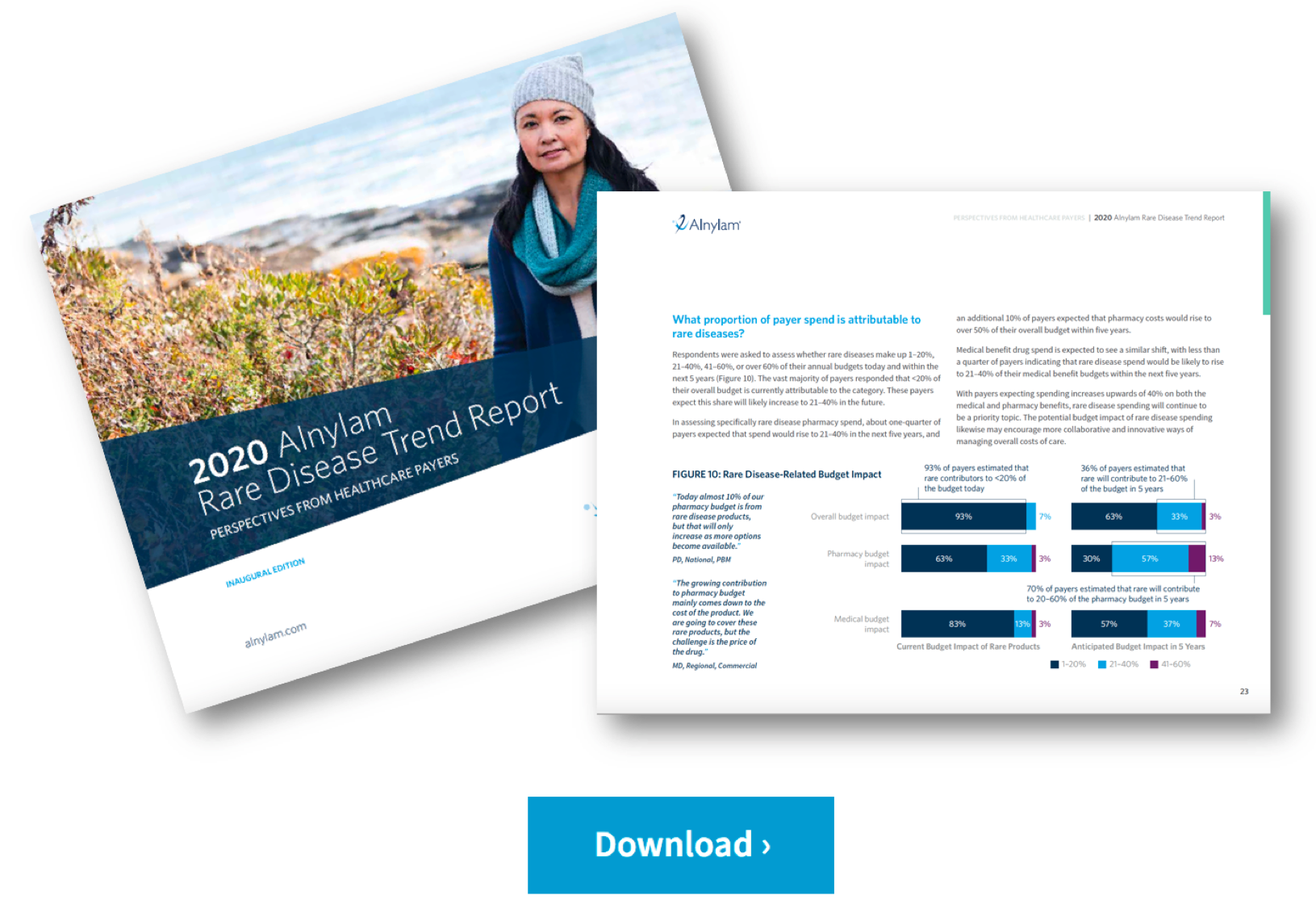 Tags