Leading by Example in Gender Diversity Among Executive Leadership
March 29, 2023

Alnylam Pharmaceuticals
The Eos Foundation has just released it's 2023 Women's Power Gap report titled "Breaking Through to the Top: Diversity Among Executive Leadership at Massachusetts' Largest Public Companies" and we're thrilled to be featured prominently as a leader in gender diversity.
Alnylam ranked #1 among Massachusetts public companies in board of directors gender diversity and #6 in executive leadership gender diversity.
We are thrilled to be recognized by the Eos Foundation in their Women's Power Gap 2023 rankings. At Alnylam, we take DE&I very seriously and are constantly striving to make strides in gender and race/ethnicity representation while maintaining our culture in line with our Core Values. With strong support of our senior leadership, including our CEO, Yvonne Greenstreet, we are committed to increasing gender parity across all levels at Alnylam and to ensuring that everybody can belong here and bring their best selves to work." - Saraswathy (Sara) Nochur, PhD, Alnylam's Chief DE&I Officer
According to the Eos Foundation, the 75 largest pubic companies (by market cap as of Sept 1, 2022) were evaluated using publicly available data and public sources related to gender and survey information provided by each company. Survey data included gender (man, woman, gender nonbinary) as well as racial and ethnic demographics.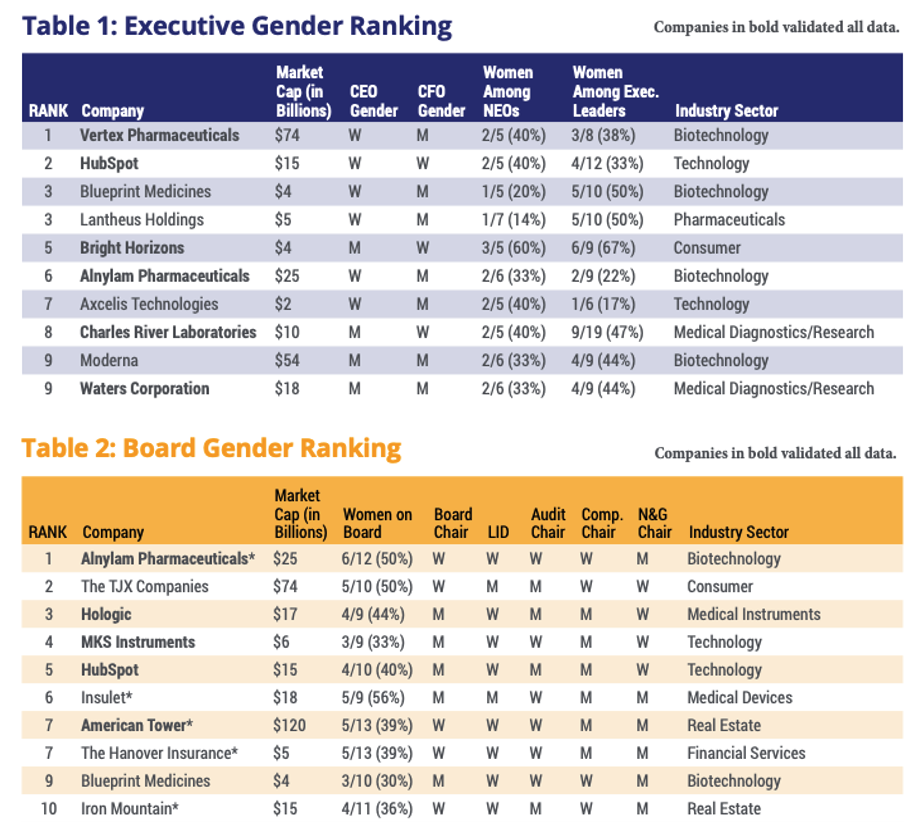 Source: Women's Power Gap Report 2023, Eos Foundation
With 4 biotechnology companies among the top 10 companies, we are pleased to see that our industry is leading the way in advancing women, but we recognize that our industry has more work to do. In addition to the rankings, the report includes key findings related to progress and ongoing challenges in representation of women and women of color (WOC) in executive leadership and boards of directors.
Read the full 2023 report here, and we invite you to learn more about Alnylam's focus on diversity, equity and inclusion (DE&I).