Partnering with Nucleate to Support Young Biotech Entrepreneurs
July 13, 2022

Alnylam Pharmaceuticals
The hard reality of biomedical innovation is that a great idea or breakthrough discovery alone is typically not enough to ensure that it will ultimately benefit patients and society. The ideas or discoveries, and the entrepreneurs behind them, require nurturing in the form of counsel and funding to build the businesses that can translate possibilities into practical therapies and devices.
In biotechnology, there is a vast ecosystem consisting of incubators, venture capital firms, and mentoring programs that supports entrepreneurs and their start-ups. That ecosystem supported and funded Alnylam when we were founded in 2002, allowing us to take on the challenge of pioneering a new class of medicines in RNAi therapeutics. At that time, our founders, who included biotech veterans Phil Sharp (MIT professor, Nobel Laureate and co-founder of Biogen) and Paul Schimmel (co-founder or founding director of Alkermes, Cubist and others) tapped their networks to secure initial funding from venture capital firms and make key hires from within biopharma. The rest is history, which you can read more about here.
While the biotechnology ecosystem helped Alnylam's founders launch our company, and works for dozens of other biotech startups each year, it can be challenging for entrepreneurs who are not industry veterans to open doors and access the kind of mentoring and capital required to launch a successful venture. The net result is that many ideas for new approaches to treating disease and promising biotechnology entrepreneurs fail to reach their full potential.
That challenge of access is the problem that Nucleate set out to solve for when it was founded as a pilot program at Harvard and MIT in 2018. As Nucleate has grown from those beginnings to now having 18 regional U.S. chapters, over 70 participating academic institutions and as it eyes international expansion, Alnylam will support their efforts by lending our industry expertise to the next generation of biotechnology leaders.
As we thought about how we wanted to commemorate our 20th year as a company, we knew that we wanted to honor the entrepreneurial spirit of our founders helping by helping remove barriers faced by a new generation of leaders and most promising ideas in biotech. We're thrilled to be doing that through our partnership with Nucleate, and the Alnylam BioVenture Challenge." – Akshay Vaishnaw, MD, President of Alnylam
Nucleate is a student-led, non-profit organization that provides open-access educational programs to students pursuing careers in biotechnology. Our partnership centers on Nucleate's Activator program, which supports young entrepreneurial founders with workshops, mentoring from biotechnology professionals, and funding opportunities through pitch competitions. The Activator program provides this support without taking fees or equity, which enable founders to focus 100% of their funding on growing and scale their fledgling companies.
The Alnylam/Nucleate partnership has several components, but we kicked off our partnership in a very exciting way with the inaugural Alnylam BioVenture Challenge on June 10th 2022. Held at our corporate headquarters in Cambridge, MA, we hosted three semifinalist teams from Nucleate's Activator program who had won accolades at various regional competitions as they pitched their scientific and business strategies to a judging panel of senior Alnylam leaders. At stake was the $100,000 John Maraganore Science Entrepreneurship Award, named after Alnylam's former and founding CEO who serves as a mentor to numerous scientific entrepreneurs in Nucleate's program and other mentoring programs.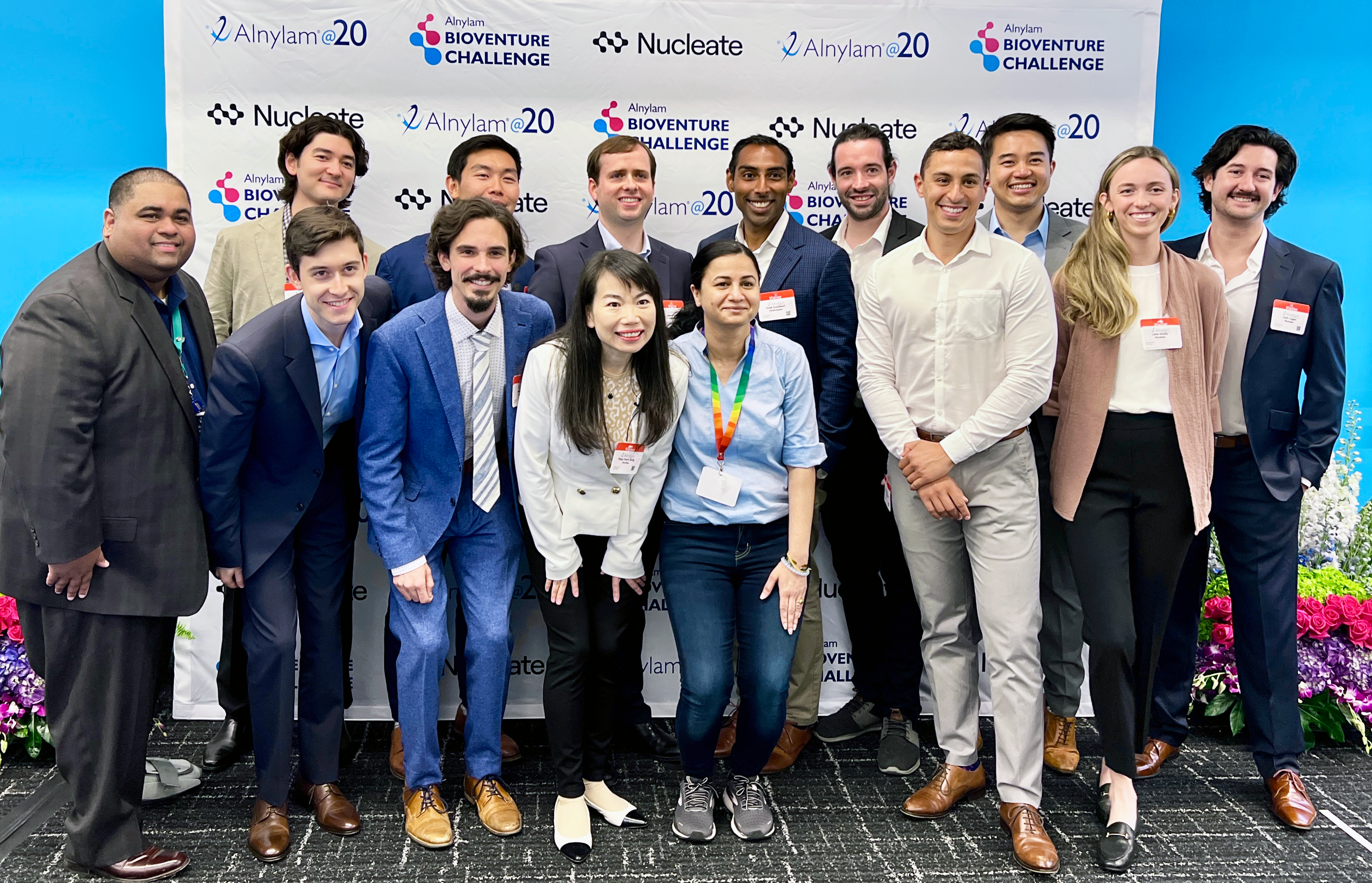 Members of the teams competing in the Alnylam BioVenture Challenge
The judges evaluated teams on the robustness of their science, feasibility of their business model and the extent to which teams considered factors that are central pillars of corporate responsibility at Alnylam such as diversity, equity, and inclusion and how they will advance health equity. The judges put the teams through a spirited question and answer session and after difficult deliberations, awarded Team Dorivac the top prize for their concept of creating breakthrough DNA origami-based immunotherapies to tackle cancer and infectious diseases.
We are incredibly honored that the Alnylam judges selected our venture DoriVac for the award amongst such impressive teams in the Nucleate cohort. This has greatly encouraged us to follow in Alnylam's footsteps. We are excited to continue developing the DoriVac platform technology to make effective vaccines for cancer and infectious diseases." – Claire Zeng and Kevin Emancipator, Team Dorivac
Team Dorivac will use the funds to expand their research efforts and will continue to check-in on their progress with Alnylam leaders and colleagues who they met during the Alnylam BioVenture Challenge. Alnylam has no stake in the DoriVac venture as a result of this award.
We congratulate Team Dorivac on winning the inaugural Alnylam Bioventure Challenge and the other finalists Team HydroGene and Team InGel.
As we celebrate Alnylam's 20th anniversary, and reflect on our own entrepreneurial past, we look forward to our ongoing partnership with Nucleate where we will continue to support the organization as it expands globally, serve as a sponsor of Nucleate's annual summit and encourage our peers in the biotechnology community to join us in supporting increased access to mentoring and funding for young biotech entrepreneurs.