We Stand Against All Forms of Racism and Discrimination
June 1, 2020

Alnylam Pharmaceuticals
On June 1, 2020, we issued the following public statement in response to events unfolding in the United States via our Twitter and LinkedIn accounts.
We've been watching with anguish at the current state of racial unrest and anger in our country and across the world. We grieve the brutal and senseless murder of George Floyd in Minneapolis, and countless others in the past due to systemic racism in many institutions and communities across our country. Enough is enough, and change is urgently needed.
At Alnylam, we stand against all forms of racism and discrimination. At our core, we believe in justice, equity and inclusion. We stand with and support the black community and all people of color whose outrage is justified. We firmly believe we must collectively speak out and unite to end this all too familiar pattern of mistreatment, and we stand with peaceful protests aimed at achieving real and sustainable change. Solidarity is key to our humanity and we at Alnylam will do everything in our power to achieve that.
Our CEO John Maraganore further expressed feelings felt by all of us at Alnylam via his Twitter account: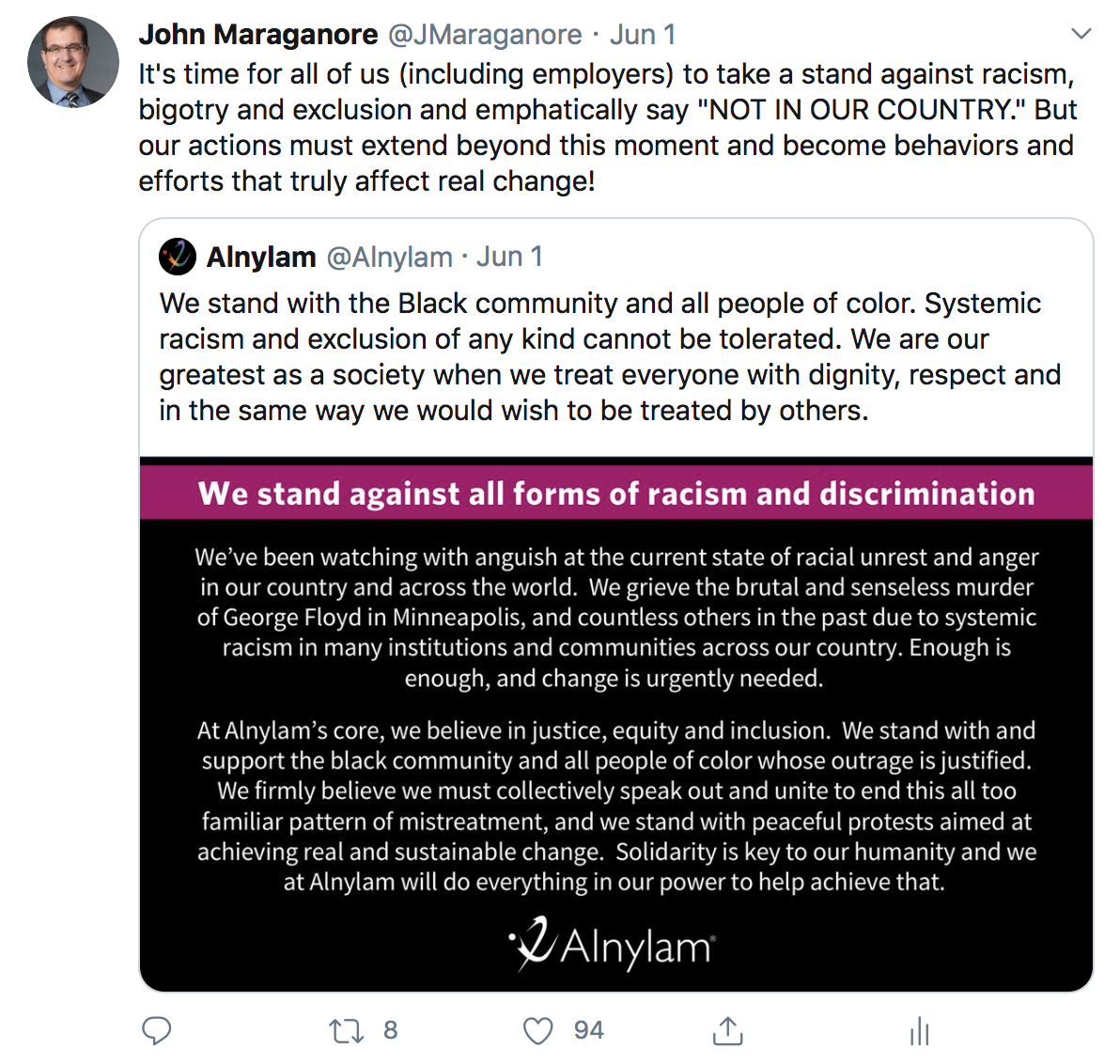 At Alnylam, we believe that our long-term success and ability to deliver medicines to patients requires a diverse and inclusive workforce. We are committed to building an environment where employees are enabled to achieve their full potential. By empowering employees to bring their unique differences to work, our business grows stronger with advanced and original thinking, allowing us to bring groundbreaking medicines to patients. To learn more about our commitment to diversity and inclusion, click here.