Putting People First Has Never Been More Important
May 28, 2021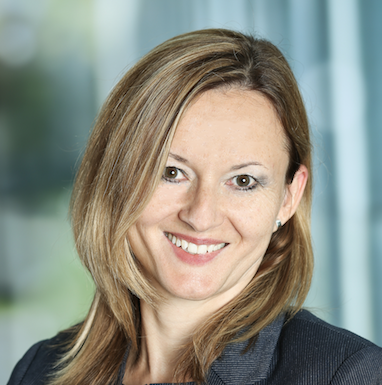 Kasha Witkos
SVP, Head of CEMEA Region, Alnylam Pharmaceuticals
'The power of putting people first' is a phrase we often hear in business, but what does it really mean? In the biopharmaceutical industry, it's at the absolute core of what we do, because we come to work every day to help patients. These people are our purpose – it starts and ends with them.
At Alnylam this means advancing pioneering science to develop innovative new treatments and working closely with the wider community, including healthcare professionals, advocacy groups, regulators, policy makers and payers to ensure that our medicines can be accessed by as many patients as possible.
But putting people first also means taking care of our employees and deeply engaging them in what we do.
But putting people first also means taking care of our employees and deeply engaging them in what we do. Creating an energized, collaborative environment where every individual, no matter what their role, feels valued and connected to the core mission, is key to the success of an organization that is dependent on its people to invent and innovate. Alnylam was founded in 2002 and we know from nearly two decades of first-hand experience that the more we focus on meeting the needs of our people and cultivating their talents, the better the outcomes for patients.
Nothing has reinforced the importance of this more than the COVID-19 pandemic. In early 2020 the world had to adjust to a 'new normal' and like all employers across industries, biopharma had to reinvent its approach to ensure that it could continue to operate and patients would still have access to critical treatments. At Alnylam, we had to prioritize and adapt quickly, making significant changes to how we operated. The majority of our teams globally moved to home-working and the need to keep people supported, connected and motivated was more important than ever. Many other colleagues who were unable to work from home, including our scientists and manufacturing employees, needed other kinds of support to perform their duties safely. Despite the challenges, we continued to launch new medicines, providing important treatment for patients where previously no other options had been available. In addition, we introduced Home Care in some countries so that patients continued to receive the right level of support and care.
I joined Alnylam in December 2020 as Head of CEMEA (Canada, Europe, Middle East and Africa), based in the regional headquarters in Zug, Switzerland. In just a few months I have been inspired by the unique passion and culture that is ingrained at Alnylam, amplified through our response to the pandemic and efforts to ensure that positive spirit and energy were sustained.
In line with our core values, we continued to put the health and wellbeing of colleagues, contractors and their families at the forefront of our decision-making process. As a new team member, I was impressed by the thoughtful onboarding experience, which had been adapted into a new interactive, virtual format. In Zug, the team found creative ways to keep people connected locally, including regular FUN virtual gatherings and celebrations for events such as Swiss National Day and Christmas. Across the CEMEA region and throughout Alnylam, our teams focused on human connectivity. I even set myself a personal goal to meet every employee across the region one-to-one via Zoom! We also launched a range of benefits to support employees and their families including virtual childcare sessions and health and wellness sessions and perhaps most importantly, flexible working arrangements. These are only a few of many examples, but it's this ability to adapt and think creatively, stay connected, and show empathy and support for our people that has made us even stronger. Together, we have created a special environment that I feel sets us apart from other companies in our industry.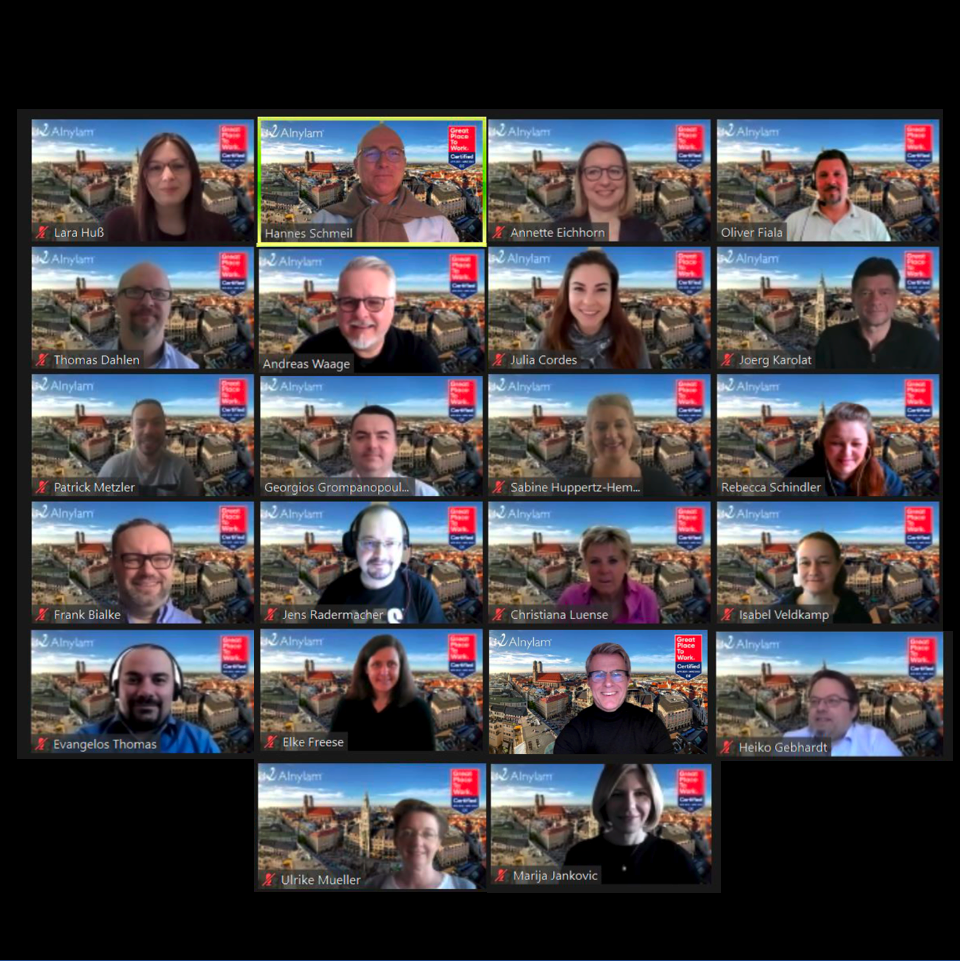 Members of our German office pose for a team photograph "Zoom" style to celebrate their first year on the Great Place to Work Germany list
That's why I'm delighted and incredibly proud that Alnylam has been recognized as a Great Place to Work® in both Switzerland and the UK for the third consecutive year in the Best Small and Medium Workplaces respectively and, for the first time, our office in Munich was recognized as a Best Small Workplace in Germany. Our office in Zug earned the added distinction of being ranked #1 in its category in the Swiss rankings!
The Great Place to Work® awards celebrate companies from all industries and sizes that, from the perspective of their employees, have a particularly trustworthy, appreciative and attractive workplace culture. Our continued recognition as a Great Place to Work in countries in Europe truly reflects our values and commitment to putting people first.
2020 was an unprecedented year but we remain excited and ambitious for our future. We are continuing to build our diverse and inclusive working environment that attracts and retains the best talent in Europe, where every employee has a shared desire to expand awareness of the diseases we aim to treat and to increase access to treatment for people living with these diseases.
After a year of such uncertainty and rapid change, the power of putting people first has never been more important.