Building to Scale: Raising RNAi Therapeutics From Infancy
April 30, 2018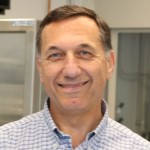 Lubo Nechev
VP, Process and Analytical Sciences, Alnylam Pharmaceuticals
When I joined Alnylam in 2004, one of our early challenges was figuring out how to manufacture and deliver RNAi therapeutics for our clinical trials. The task was daunting, as we were among the first to attempt to translate this incredible science into a potential new class of medicines. At the outset, RNAi faced similar skepticism as the early days of other new classes, such as monoclonal antibodies. People doubted antibodies would ever emerge as medicines, saying they weren't stable and were very hard to manufacture. We spent that time improving, optimizing and scaling up existing RNAi manufacturing processes that had been started by others in the community. More importantly, we needed to ensure we could manufacture our delivery solutions – namely lipid nanoparticles and conjugates, which my colleague Mano discussed – which were unique to our investigational therapies.
At the beginning, we only had a lipid nanoparticles process that worked on a small scale, but once we achieved that, we were able to successfully scale up the process (our earliest delivery technology) and produce much larger quantities. What makes me smile is the idea that when patisiran reaches the market, we will have had it from the very beginning. Developing this technology was like raising my own child – we had it when it wasn't even a baby and now we've helped it mature into an adult. That's an incredible feeling.
Our GalNAc conjugates actually proved more challenging to manufacture. Essentially, a GalNAc conjugate consists of a small interfering RNA (siRNA) molecule linked to a complex sugar molecule containing N-acetylgalactosamine (GalNAc) which is a ligand for delivery to the liver. These were large molecules, and while we could produce enough quantities for research, manufacturing them efficiently on a large scale seemed nearly impossible. We struggled to achieve reasonable yields. Most people would consider it impractical to manufacture a drug in that way, but our team held onto the belief that we could increase efficiency and improve yield. We persevered through a lot of trial and error and eventually, with small improvements and overarching changes to our manufacturing process alike, we were able to manufacture the conjugates at about the same scale, yields and cost as any other oligonucleotide.
As Alnylam's clinical pipeline has expanded, we have continued to consider how to improve upon our capabilities and increase our production. We will have to push our boundaries even further because some of the programs outside of genetic medicine – for instance, in cardiometabolic or infectious diseases – may require extremely large amounts of our therapeutics.
We're already looking to evolve our processes with innovative solutions in order to scale up and increase our manufacturing capabilities. While we partner with other companies to help manufacture components of our therapies, we're hopeful that the ability to manufacture our own medicines will give us much more flexibility and help ensure we have enough capacity to support our clinical trials and, more importantly, have the ability to supply patients in need throughout the world with our RNAi therapeutics.
Getting to where we are has taken the collective courage and resilience of countless individuals who have worked day and night to make RNAi therapeutics a reality. Since joining Alnylam more than 14 years ago, it's been immensely satisfying to work on the cutting-edge of manufacturing technology, developing something from the very beginning and watching it succeed. To be here now – to be on the verge of delivering a new class of medicines with the power to help patients who have been waiting for hope – makes this journey such an extraordinary one.
Tags