Alnylam Named #2 Science Magazine Top Biopharma Employer
October 26, 2022

Alnylam Pharmaceuticals
In the year we are celebrating the 20th anniversary of Alnylam's founding by a group of visionary scientists who sought to pioneer an innovative new class of medicines in RNAi therapeutics, it's a special source of pride that we've been named a Science Top Employer for the fourth consecutive year, and that we're ranked #2. Moving up from #3 in 2021, this also marks our fourth Top 5 ranking.
Having been named by our employees and peers to Science Magazine's Top Employers List for four consecutive years is something that we are immensely proud of and is a true testament of our commitment to our people – one of the core values that we hold dear. We are in the business of delivering transformative medicines to those around the world who have unmet needs and our success is driven by our organization's highly collaborative and inclusive culture paired with our collective passion for excellence and fierce innovation." – Akshay Vaishnaw, MD, President of Alnylam
Our continued presence on the list was determined by more than 6,200 surveys completed by people in the life sciences (32% biotech, 38% biopharma, 22% pharma) and other industries (8%) who rated companies on attributes such as corporate image, leadership and direction, work culture/environment, and academic and intellectual challenge. Alnylam's top attributes included, "Innovative leaders in the industry"; "Treats employees with respect"; and "Is socially responsible". Survey respondents spanned the globe with 63% from North America, 15% from Europe, and 17% from the Asia/Pacific Rim and 5% rest of world.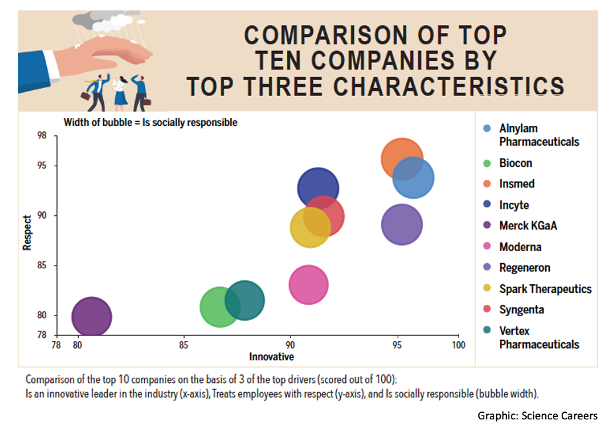 According to Science, 2022's top science employers provide scientists with safety, support and pathways to success by ensuring that science is their North Star, focusing on a culture of respect and providing employees with decision making autonomy they need to do their best. Top employers are also regarded by their employees and peers as being true innovators and being socially responsible companies.
See the full list of Science Top Employers for 2022 [Insert link] and learn more about how the companies were evaluated and ranked.
We invite you to learn more about career opportunities at Alnylam, our science, and what makes our award-winning culture so special.